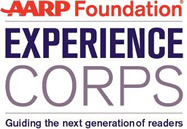 AARP Experience Corps Program
If you are interested in being part of our AARP Experience Corps Program, please contact:

Ross Jones
AARP Experience Corps Program Manager
Phone: 216-391-9500 x119
Fax: 216-391-9010
Email: Click here
Books for Kids Program
As part of our AARP Experience Corps program we also manage the Books for Kids program, in which we collect new and gently-read children's books and give them away to students in the Cleveland Schools. Each year over 5,000 books are provided to children.
If you are interested in donating books or planning a book drive, please contact us.


Experience Corps
The Cleveland AARP Experience Corps tutoring program started in 1997 and engages older adults as literacy tutors to kindergarten through 3rd grade students in the Cleveland schools. This proven program provides the support that students need to succeed in school and in life.
View our latest video with wonderful comments from some of our EC tutors!
We are expanding the AARP Experience Corps program and are looking for more tutors. Training and staff support is provided. Volunteers must be age 50 or older and pass a criminal background check.
Download our AARP Experience Corps Volunteer Application Form.

Our Experience Corps program is part of the national AARP Foundation Experience Corps program.CLICK HERE to learn more about our National AARP Experience Corps Program.